Measuring your till roll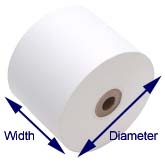 Taking the mesurements
Firstly you need to measure the width of your till roll. Do measure it precisely to be sure it will fit into your equipment. Refer to the user guide that came with the equipment if your are in any doubt.
Secondly, measure the full diameter of the paper across the middle of a new till roll (include the core in the centre as well). It is not as important being as precise in measuring the diameter of your till roll with measuring the width. You may indeed use a smaller size - it simply will just run out quicker!

Understanding the types
There are two types of till roll; thermal and single and multi-ply:
Thermal paper
This is heat sensitive paper. These are used in machines with a thermal print head. Do note, that printouts on this type of paper will fade over time.
Single-ply and Multi ply paper
These till rolls are used in impact (dot matrix) printers. You can tell if the equipment you are using is an impact printer by seeing if it uses a ribbon. You may then use a single or multi-ply till roll.
Action paper
Some impact printers will use action paper instead of ribbons. This enables the print to be carried through to multiple layers of your till receipts without using a ribbon.